Gavilar specializes in the design, construction and installation of gas pressure and metering stations
About GAVILAR
gAvilar is a young company but boasts a rich history. The roots of our company lie in the Meterfabriek Dordrecht, which was established in 1858. Until mid-1981, Meterfabriek Dordrecht operated in the Lijnbaan district of Dordrecht, where stoves and vacuum cleaners, as well as gas, water and electricity meters were produced. The company later saw the addition of gas pressure regulators to its production line.
At the current site on Kamerlingh Onnesweg in Dordrecht, the production of gas meter bars and gas stations was introduced alongside production of the aforementioned meters and gas pressure regulators. After various takeovers down the years, the owner, Itron Inc., decided in mid-2011 to cease production activities in Dordrecht for strategic reasons.
By means of a Management Buy-Out, gAvilar took over the production of gas pressure regulators, gas meter bars and gas stations in early 2012 and in doing so combined the years of experience gained with the effectiveness of a compact and dynamic company.
VISIon
gAvilar B.V. focuses primarily on the market for gas distribution. Our core business is developing, producing and selling control equipment for gas. We are among the market leaders in this field and maintain this position through continuous innovation and improved efficiency.
MISSIon
gAvilar B.V. strives for absolute customer satisfaction. We provide products and knowledge to our customers in order to deal with the control of various network pressures in an efficient and responsible way. Safety at all levels (products, services, employees, ...) always come first and are uncompromisingly pursued.
Our motto is "goed geregeld" (well organized) to ensure effective regulation for our customers, partners and employees.
Our company brochure
Take a look at our company brochure!
CSR
gAvilar B.V. embraces the principles of Corporate Social Responsibility and wants to create value on economic (Profit), environmental (Planet) and social (People) areas. We not only respect the law and regulations, but go further and conform ourselves also to meet the requirements of national and international standards such as ISO 9001, ISO 14001, VCA, and SCIOS. In our CSR policy, we comply with the
7 CSR principles and the 6 core themes.

In december 2015 we obtained the CO2 performance- ladder certificate level 3. The CO2 performanceladder is an instrument to encourage companies to reduce their CO2 emissions as much as possible. This is reflected here at gAvilar by taking measurements, primary focussing on reducing our energy consumption from scope 1 (gas) and scope 2 (electricity).
Since July 2016 we are in possession of the CSR Register certificate (formerly the FIRA platform). The MVO Register is a digital register where companies (suppliers) can make their CSR performance visible to existing and new customers. This can prevent companies from having to fill in endless CSR questionnaires every time. Click on the CSR Register logo for our CSR scorecard or take a look at our first CSR annual report which can be downloaded below.

| Category | Name | Language | Date |
| --- | --- | --- | --- |
| ISO/CSR | CSR-Register (FIRA) statement 2022 | en | 04-05-2022 |
| ISO/CSR | gAvilar CSR annual Report 2020 | en | 10-04-2021 |
| ISO/CSR | CO2-footprint gAvilar 2019 | en | 20-05-2020 |
CERTIFIcations
The manufacture of products for gas systems must fulfil stringent requirements and quality standards. gAvilar is fully certified according ISO9001 and ISO14001 for all of its company activities. The residential regulator model WMR(G)-F, shut-off valve model WMG-F and the gas meter bar all come with a Gastec QA quality label. For specific activities on customers locations, we are certified as Safety Checklist Subcontractors [VCA*].
In April 2014 we achieved the SCIOS certification and are qualified to perform first or special inspections (EBI) and periodic inspections/tests (PI) on gasconduits for central heating systems, both for scopes 7a and 7b.
In June 2014 we received the CE certificates PED and GAD from DVGW Germany. We are therefore authorized to produce high pressure safety reflief valves (SRV), safety shut-off valves (SSV) and gas pressure regulators (VR75).
Since October 2015 we are certified according the CO2 performanceladder level 3.
our references
Spaklerweg Amsterdam
In 2018, gAvilar built a new gas distribution station and test facility on behalf of Liandon. The installation consists of 5 streets 8 bar to 1 bar with a capacity of over 50,000 Nm3/h and 2 streets 8 bar to 100 mbar capacity approximately 6,000 Nm3/h. In addition, a substantial test installation has been installed in this room to enable gas equipment to be tested for complete installation under gas conditions.
Unique to the construction of the installation is that both pipe sections, foundations and pipe supports are manufactured after which everything is preserved. Subsequently, the parts were delivered in the correct order and assembled on site.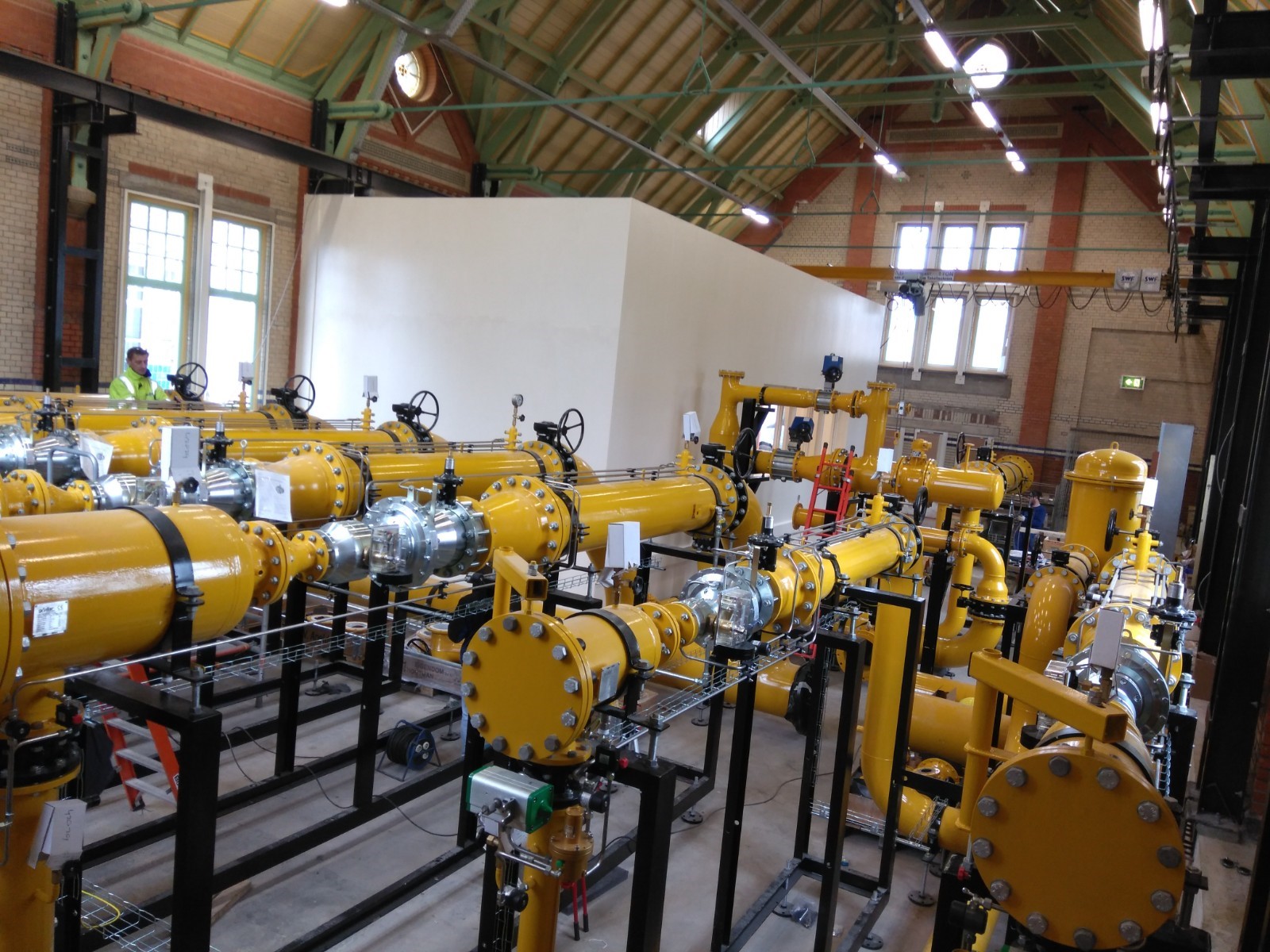 Gas (Dispensing) Station VU University Amsterdam
In 2014, gAvilar, in collaboration Liandon, achieved a new gas delivery station at the Medical Centre of the Free University of Amsterdam. Watch the following video how the whole process came about:
Nitrogen Measurement and Regulation Station
Working in consultation with Linde Gas Benelux, we have developed a new nitrogen measurement and regulation station. The installation has been equipped with twin streets, which provides a high level of reliability in gas supply. An additional benefit of this system is that it keeps the venting of nitrogen to a minimum.
Maintenance can be carried out on the installation normally during operating hours, which keeps maintenance costs to a minimum. The use of a stainless steel housing also provides the installation with durable protection from the elements. Noise pollution is negligible whilst the housing also reduces the risk of vandalism. The gas meters are equipped with remote reading systems, which means that the customer's consumption can be monitored precisely and it is possible to know immediately when the reserve street has gone into operation. An extensive HAZOP study was conducted before Linde Gas Benelux commissioned the installation. The installation was put into operation in mid-June 2012 and is functioning very satisfactorily.
Stedin
Stedin has begun a test run to use the 8 bar gas network in Bunschoten-Spakenburg as a buffer in order to enable a green gas (Biomethane) feeder to feed the gas it produces into the 8 bar gas network during the night. The 8 bar networks in Bunschoten-Spakenburg and Amersfoort are both fed by two gas receiving stations [GOS]. By shutting off valves, these two gas networks are separated, which allows each gas network to be fed by their respective gas receiving station.
Stedin has commissioned KiwaGastec to develop a network separation station, as part of which we here at gAvilar have been given the opportunity to contribute our ideas towards achieving the appropriate technical solution. This station has been constructed by gAvilar and installed by Stedin's contractor between the two separate gas networks. The installation was put into operation on 14 August, when one gas network was set to a pressure of 4.5 barg and the second set to 7.5 barg. The 4.5 bar gas network is being used as a buffer in which the pressure may increase to 7.5 bar, when the net separation station will open and the second network will be filled to 8.1 bar. This solution will enable green gas to be fed into the 8 bar gas network 24 hours a day, 365 days a year.
The network separation station is equipped with an analogue reader, which makes the reading values appear in the web portal of Inter Act. A series of alerts are also forwarded to the disruption service of Stedin via this web portal, which enables prompt action to be taken if systems are not functioning properly.
The data from this web portal is linked to a publicly accessible website www.sg3.nl, which shows how the network separation station works in diagram form. Click on a flow value or the name of the gas network to view data in graphic form.